The Oil and Gas Program resides under the Minerals, Navigable Waters, and Oil & Gas Division within the Idaho Department of Lands and serves as the administrative arm of the Commission.
Division Administrator Mick Thomas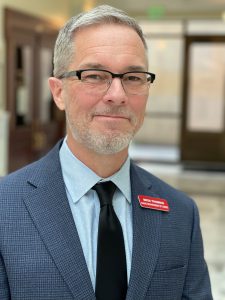 Mick Thomas is the Minerals, Navigable Waters, and Oil & Gas Division Administrator at the Idaho Department of Lands. He oversees the Mineral Regulatory program, the Navigable Waters program and the Oil and Gas Program. Mick serves as Secretary to Idaho's Oil and Gas Conservation Commission, serves on the Idaho Geological Survey Advisory Board, and is the official Idaho delegate to the Interstate Oil and Gas Compact Commission.  
Mick is a native of southwest Missouri and completed both his Bachelor's and Master's degrees in geochemistry at Indiana University Purdue University Indianapolis. After graduation, Mick worked as an operations geologist in the oil and gas industry for multiple companies including as a geology team lead over the mid-continent with Devon Energy in Oklahoma City.
Mick is passionate about enabling a robust mineral industry in Idaho that is safe, responsible and sustainable. In his spare time, he enjoys restoring his 1961 International Harvester Scout 80 and spending time with family.
Agency Guidance Documents